Dokutsuki

Official Concept Art of Dokutsuki.
Sprite
Release
Meaning

Dokutsuki (どくつき) (lit. roughly "with poison")

Age

Unknown, assumed to be in her teens.

Gender

Female

Appearance
Hair

Cyan/light blue with red shards in her hair.

Eyes

Green-Blue

Shirt

A yellow and black checkered box design with 4 black lines coming out from the corners of it is depicted on her shirt.
Dokutsuki (どくつき) (lit. roughly, with poison) is the main character of Broken Bottles. Not much is known about her other than she refuses to leave her basement and she lives on the bottom floor of a dingy apartment.
She also has insomnia and uses her chemistry set to induce sleep, possible using drugs or other things that affect her dreams/personality. It has not been officially stated, but her birthday is assumed to be the same as when Broken Bottles first came out.
Appearance
Edit
Dokutsuki has cyan-blue hair with what appear to be red shards of glass tangled in it, but Doodle herself has said that they are entirely up to interpretation. Some people draw Dokutsuki with various objects in her hair such as Doritos (chips), puzzle pieces, air fresheners, etc., but most people just draw them as glass shards.
She has a dark orange short-sleeved shirt with a dark green long sleeve shirt underneath, and a red and black checkered skirt with suspenders. Her eyes are a light green-blue.
Personality
Edit
Dokutsuki is considered to be rather calm, and maybe a bit of a troublemaker due to killing NPCs in her dream world. It is possible she finds enjoyment in harming others or has a fascination for horror due to the somewhat dark and dingy dreams she has.
In The Static Box event, she is seeing grinning and crying at the box. She is considered to be heavily reliant on her bottles in some depictions on fanart, and due the the presence of bottle and glass imagery spread throughout the game.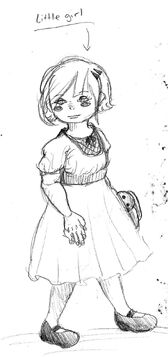 It is possible that Dokutsuki has lost her memory as a side effect from chemical use, since an NPC comments about Dokutsuki "still not remembering him". Other NPCs interact more with Dokutsuki than NPCs with their protagonists in most other games; it is possible that they are parts of her memory that have taken the form of people.
Not much is known about her childhood, but it is assumed that she has had some trouble with a pinked haired NPC that shows up in the Little Girl event and in other various places throughout the game. 
Other Game Appearances and References
Edit
Name
Image
Description
Akiyo

From a non-ynfg RPG. Dokutsuki cameos as a background NPC.
Akuma

A painting of Dokutsuki's shirt pattern can be found in the Mansion.
DayDream

A lamp with Dokutsuki's shirt pattern can be found in the Fangame Reference Room.
If

A floating card of Dokutsuki can be seen in the Fangame Spelling Room. Interact with it shows the word Poison on the screen above.
Manda no Yume

One of the Unlockable Hairstyles is based off Dokutsuki's hair.
Me

A painting of Dokutsuki's outfit and the Medusa effect can be found in the Fangame Reference Gallery.
Physicality

A picture of Urotsuki's outfit can be found in the Fangame Reference Stairway.
P.S.Rose

A painting with Dokutsuki's outfit pattern and a hint of her hair design can be found in the Fangame Reference Gallery.
Somnium

Thomas has a sprite with Dokutsuki's hair and outfit colors that can be seen in the Fangame Reference Room.

Interacting with sprite show the description Poisonous Cyan on the screen.

The Looking Glass
One of the paintings in Irene's apartment has Dokutsuki's shirt pattern.
TRIAL

A painting of Dokutsuki's shirt can be found in the Fangame Reference Room.
Yume Fumi

A diamond with Dokutsuki's shirt pattern can be found at the Fangame Reference Room